What's On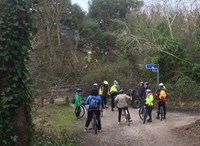 Pedal Away Cycle Rides - 14th December
Join our partners at Active Travel for the wonderful Pedal Away Cycle Rides held every Friday starting in Ainsdale at the MeCycle Cafe on Station Road.  The routes are mainly traffic free or on quiet streets away from busy traffic; your experienced ride leader will be on hand to show you the way and advise you on correct riding techniques and etiquette, helping you to get the most out of your cycling.
The rides always involve a café stop, either part way through the ride or at the end, so there's a great chance to chat with other riders, ask the leader any questions or just refuel for more cycling. Two rides leave the cafe at 10am, both are free, fun and friendly; one is perfect for regular cyclists whilst the other is aimed at beginner cyclists or those returning to riding after a break.
These rides are open to all and are free to attend.
Back in the Saddle Riders - 10am to approx 11am
Intermediate Riders - 10am to approx 12.30pm
Limited bikes and helmets are also available for use – Booking for these is required in advance.
Call 01704 579353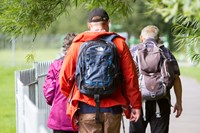 Countryside Walk - 16th Dec
Join the West Lancs Rangers for one of their many countryside walks.  The walks vary between 5 and 12 miles in length and all start at 10am.
Sun 16th Dec - Lathom Circular - 8 miles - start at 10am Ruff Wood
For more information nearer the time, contact the West Lancashire Rangers on 01695 622794 / beacon.park@westlancs.gov.uk or see the website.
Places to explore
Trans Pennine Trail

The Trans Pennine Trail (TPT) is an exciting route for walkers, cyclists and horse riders linking the North and Irish seas, passing through the Pennines, alongside rivers and canals and through some of the most historic towns and cities in the North of England.
The Trail from coast-to-coast between Southport and Hornsea is 215 miles (346Km) long. If you want to explore for a day or longer then there is something for everyone. Visit the Trans Pennine Trail Website for up to date information.

The Leeds Liverpool Canal
With recent surface improvements and lots of changing scenery along the way, from historical buildings, rolling countryside and fabulous places to stop and eat, the Leeds Liverpool Canal has something for everyone.  This picture is at Top Locks, on the Rufford Branch by the Ship at Lathom.
Burscough Wharf
Burscough Wharf
opened its doors to the paying public in 2011 and its reputation is steadily growing as a unique retail and leisure development which is centred around food and drink, arts and crafts, the creative industries, fashion and the community.
A vibrant retail and leisure development has been created that trades seven days a week from early morning to late at night.
Burscough is a growing market town in West Lancashire and this development has transformed the town centre by linking the Leeds/Liverpool Canal to the central retail area and all the local amenities.